(Holy Week - the week before Easter) is Guatemala's biggest festival, featuring processions and celebrations throughout the country - Antigua's fiesta is said to be the best. Rabin Ajau, held throughout the Verapaces, most impressively in Cobán, is a traditional Q'eqchi' (Kekchi) Maya festival which runs from July 21-26. Independence Day is celebrated nationwide in September. November features All Saints' Day, and Chichicastenango commemorates Santo Tomás from December 13-21.
Money & Costs
Currency: quetzal
Relative Costs:
Meals
Budget: US$2-5 Mid-range: US$5-15 Top-end: US$15 and upwards
Lodging
Budget: US$5-30 Mid-range: US$30-60 Top-end: US$60 and upwards
Prices in Guatemala are among the region's best. You can pick up a one-plate meal for less than US$2, or stuff yourself on almost-free fruit and snacks from elaborate markets. Camping is incredibly cheap, and bus trips cost around US$1 an hour. Even if you splash out on a few comforts, you should be able to get a room with a bathroom, plus two or three meals, for US$25 a day.
It's a waste of time trying to change anything other than US dollars - even currencies from neighboring countries will probably prove impossible to exchange. If you do have a different currency, try the casas de cambio at Flores or Guatemala City airports. ATMS are springing up around Guatemala City, and most banks will give you an advance on your Visa card over the counter. It's worth noting that Mastercard is almost completely useless in most of Guatemala.
Restaurants expect a tip of around 10%, on top of the 10% IVA (value-added tax). On top of this, hotels charge 10% tourist tax. Most hotels and shops have fixed prices, but you'll be expected to bargain at markets - remember to keep your sense of humor and perspective.
La amplia variedad de características geográficas, climáticas y culturales de Guatemala hacen que este país sea ideal para la práctica de infinidad de actividades y deportes como vuelo libre, acampar, andinismo y alpinismo, fotografía, observación de aves, peregrinaje, canotaje y ciclomontañismo. Un destino "naturaleza y cultura" - arqueología precolombina, arte colonial español, artesanías, Caribe, mercados coloridos, fiestas patronales, Garífunas, lagos, manglares, Mundo maya, Océano Pacífico, paisajes de montaña, procesiones, pueblos indígenas, selva tropical, semana santa, trajes y textiles ancestrales, sitios mayas, tradiciones, volcanes, ... y mucho más.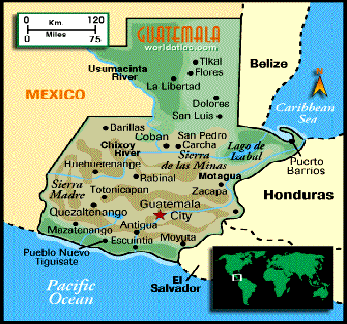 Copyright © - Dinamarca Marzo del 2001-Creación y diseño:
Wagner Fuentes Santisteban.All rights reserved